Just a quick update on my Melbourne Half Marathon training and Cantoo fundraising.
I have gotten over my blisters and also some tendonitis in my feet and am now nursing a strained hamstring with physio and anti-inflammatory pills so that I will be right for the run this Sunday. Yep, this Sunday, five sleeps to go! My run times have improved and I am hoping to be as close to two hours as possible (injuries aside).
Thanks to everyone who has donated and supported me along the way. $957 has been raised through donations and those that supported the 'Check, Raise for Charity' poker event a few weeks ago. I am hoping to get to my target of $1250 by Wednesday afternoon. If you would like to help me reach my target and you can make a tax deductible donation via http://bit.ly/cantoo-donate and search for Lalor (I am the only one in there :p).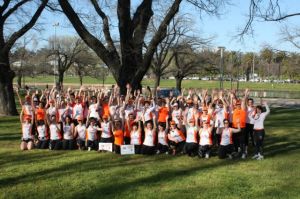 This Sunday the Melbourne half marathon will start at 8:00 am from Batman Avenue, we head up to Flinders Street Station then down St Kilda Road and around Albert Park Lake and then backtrack to finish at the MCG. Should be awesome crossing the finishing line in the mighty Colosseum! I hope I get into the MCG around about 10:00 am to complete the 21.1km journey.
If you can make it down somewhere along the course and cheer us on that would be awesome – we will be running in bright orange singlets so should be easy to spot! You can get all the course information from www.melbournemarathon.com.au
Hope to see you cheering us on and thanks again for your support.
Cheers
Lalor